Forecast by Armand Diaz
Hot aspects bookend August, 2022, with some Neptunian vaguery clouding things in between. Relationship matters are quite prominent this month, with open exploration and new possibilities that are somewhat constrained by serious Saturn and Pluto.
Once again, Mars gets to be first this month, meeting the Uranus and the North Node on the 1st. This continues the impulsive and impatient energy of late July, and there may be some surprises in store. Be careful driving and in general try to think before you act. Still, it's not like you want to sit back with this aspect in effect – by all means do something! If you have excess energy, try burning it off with some sensible exercise.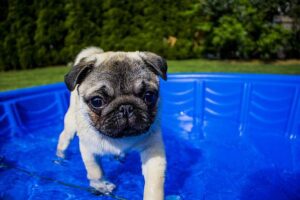 That energy might be channeled into romance and relationships, with Venus stepping in to sextile both planets on the 2nd. We could find that even with the Cancerian parameters of tradition, we're ready to let some changes take place. 
Venus goes on to trine Neptune on the 7th, adding a little dreaminess to the picture, but her opposition to Pluto on the 9th is all business. If you've made castles in the air, or on the beach, you may find them washing away. On the other hand, what survives Pluto's cold stare is likely to provide a firm foundation for moving forward.
After her harrowing time in Cancer, Venus enters Leo on the 11th, taking off her maternal apron and donning her party dress. It's time for theater in the park, volleyball on the beach, and summer fun. The full moon in Aquarius squares Uranus on the same day, giving us all the incentive we need to shake things up a little.
A more sober vibe prevails on the 14th, as the Sun opposes Saturn while Mars trines Pluto. You could be facing some of your limitations, but this is a great time to focus your energy on a project. 
Look to the time around the 18th to provide another opportunity for fun, as Venus trines Jupiter, while Mars trods through the last degrees of Taurus. We may be in the waning days of August, but these aspects will keep up the heat.
Things start to get a little slippery around the 20th, as Mars does the two-step into Gemini, while Mercury opposes Neptune. Once again, truth may be subject to individual interpretation, and even if we try to be precise (Mercury is in Virgo, after all) we could unwittingly embellish. Some folks will have a hard time seeing the forest for the trees – but all of us should take a hiatus from important decisions, even if we might have to speak up sooner than we'd like, as Mercury trines Pluto just a day later.
The Sun leaves his home sign to Venus as he enters Virgo on the 22nd. Those of us in the Northern hemisphere will feel that summer is beginning to fade to autumn, as the days shrink noticeably and the nights grow longer. 
There are still a few more celestial pops before August ends, however. Uranus stations to retrograde on the 24th, once again stirring up our needs for independence and change. Venus squares Uranus on the 27th, bringing that energy home to relationships. With the Sun square to Mars at the same time, we could see a spike in impatience, and vulnerable relationships may have some significant stresses. As we're also at the Virgo New Moon, we'll have to decide if it's time for beginnings or endings. 
Just a day later, on the 28th, Saturn again gets the last word in an opposition from Venus. We've had a few days to consider new opportunities and explore the possibilities, and now Saturn asks us to decide what's real.