Forecast by Armand Diaz
Happy New Year!
As we begin 2023, we naturally look back to the past year and ahead to the future. The year begins with Mercury and Mars both retrograde, a sign that it might be a little difficult to get traction in some areas. Communication is likely to be a little strained, as Mars is in Mercury's home sign of Gemini. 
Still, things will get moving soon enough. A big part of 2023 will be the emphasis on Uranian/Aquarian energy: collective values, progressive political causes, significant changes, and new ways of doing things. The 'breakdown' period of Pluto in Capricorn is drawing to a close, and we're moving towards creating new realities. Wider vistas are opening, although there are challenges ahead in this process (hint: Aquarius is a fixed sign and can be somewhat rigid, while Uranus can be rather cold).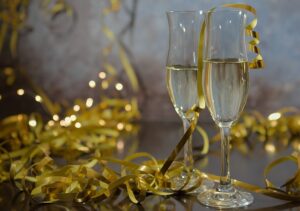 January
Fresh from her meeting with Pluto at the end of Capricorn, Venus steps into the cool air of Aquarius on the 2nd. In the sign of the Water Bearer, Venus favors openness and friendships. It's a good time to connect with folks in groups, and if the group has a purpose – charitable, social, or political – so much the better. A sextile to Jupiter two days into her stay helps us to put plans into action early in the year. A Sun/Uranus trine will also fuel the Aquarian energy, and in Earth signs we'll see practical manifestations.
 January's full moon is on the 6th, in the sign of Cancer. This full moon will be blazing high in the sky, so get out and take a look at it (weather permitting). Around this time, matters concerning home and family are likely to come to light and take precedence in our lives, while on the collective level we can expect to see an emphasis on clan and country. This active energy is likely to contrast with the drag that Mercury and Mars are putting on things, so watch out for frustration to build in some areas.
 Venus trines retrograde Mars on the 9th, an opportunity to review our relationship decisions and decide where we want to place our efforts in the coming months. 
Mars stations to go direct on the 12th, ending his retrograde that began on October 30th. We'll be getting the green light to move forward with new projects soon, but give Mars a week or so to get up to speed. In the days close to the station, watch for tempers to flare: road rage is particularly likely with Mars in Gemini and Mercury retrograde.
Relationships come into focus at mid-month, with partnership asteroid Juno leaping into Aries on the 13th and Venus squaring Uranus on the 14th. We'll be looking for something (or someone) new in our partnerships, so break out of the box and change up both your routine and your expectations. 
Mercury stations direct on the 18th. As always, it's right around the stations that Mercurial mishaps multiply, so take extra care with communication, technology, and transportation matters. The Sun is having his annual meeting with Pluto on the same day, so folks could get a little hot under the collar.
The Sun goes on to enter Aquarius early on the 20th, just a day before the new moon. While we might expect this to be a quiet time, there's plenty of energy in the air as Uranus stations direct on the 22nd. Give yourself and others some space in the days surrounding the station, as we'll all be feeling the need to assert our independence and do our own things.
Relationships get some mixed messages from the Cosmos during this period. Venus meets with Saturn, giving a feel of deadlines and decisions, while Jupiter meets with his wife, Juno, signaling an upbeat and positive vibe. Combined with the new moon and Uranus station, our personal lives will be up in the air – and/or brought down to earth.
On the 26th, Venus enters her favorite sign, Pisces. In the sign of the fish, she takes a broader, more compassionate approach to relationships. It's time to recognize and honor our spiritual connections as the month ends. Helpful aspects between the Sun and Mars, as well as Mercury and Uranus, will move things along as we round out January.