Happy New Year!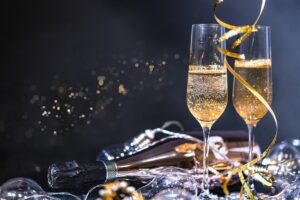 The past two years have presented with extraordinary stresses: political, social, environmental, and, of course, the pandemic. If 2020 pulled the rug from under us, 2021 didn't make it easy to get back on our feet. In some respects, it was 'two steps forward, one step back', although at times it felt more like 'one step forward and one step back'. 
Astrological weather is rarely calm for long, and our history has shown us many difficult periods. Yet the confluence of stressors that we've been dealing with is rare – and they challenge us to assess how prepared we are to meet them. 
January is named for the Roman god, Janus, who had one face looking back to the past, and one looking forward to the future. We would do well to follow his lead as 2022 begins, and reflect on how we've individually and collectively handled the past two years. For, certainly, changing times are not over.
The United States will reach its Pluto return in 2022, arriving for the first time back at the same place in the tropical zodiac it was in 1776. The planet has a long orbit, and we've been feeling this point of degeneration and regeneration for some time. Much hangs in the balance, and we'll have to see how we handle this very challenging time.
January would seem to represent a relative break in the action, a lull in cosmic activity. That hardly means things will be quiet, but it's another indication of a time when we'll be integrating the massive shifts into our personal lives – although personal and collective interpenetrate all the time.
January
Coming out of the high activity of late December, January starts with powerful energy as the Sun trines Uranus on the 1st, just before the new moon in Capricorn on the 2nd. It's a time to release what isn't working for you and make plans for the future, especially in the area of career.
Relationships and romance might be in focus from the 4th through the 9th, as retrograde Venus Neptune, partnership asteroid Juno, and the Sunall make aspects to each other. We could be revisiting relationships from the past, or reconsidering our present partnerships. A good strategy might be to wait until at least the beginning of February, when Venus is moving direct, to make any permanent decisions. 
Mars squares Neptune on the 11th, an aspect that can spur people to crusade for a cause – especially with Mars in expansive Sagittarius. Be sure that the giants you're charging at are real, and not windmills, with this quixotic aspect in place. While impassioned action could be one manifestation, be aware that Martial energy can sputter out when Neptune's involved.
That Cosmic Gremlin, Mercury retrograde, begins on the 14th. Expect the days before and after the station to have the greatest potential for Mercurial mischief, although if Mercury retrograde was predictable, it wouldn't be Mercury retrograde. Note that with both Venus and Mercury retrograde, it's a uniquely poor time for negotiations, appraisals, and contracts. Use the next three weeks to organize, revise, and edit.
At mid-month, the energy reaches a peak from the 16th through the 18th, as the Sun meets Pluto, we have a full moon in Cancer, and Uranus stations to go direct. This period is likely to feel unsettled, as any unfinished business is brought up for evaluation – and action. There's an impulsivity in the air and patience will be low. This is a great time to get it all out in the open, as long as you're sure what you want. Be aware that the Cancer full moon can bring about strong security needs.
On the 19th, the Sun leaves Capricorn for Aquarius, while Mars moves into Capricorn on the 24th. These energetic shifts are subtle, but they continue the vibe set at the full moon.
Mercury meets with Pluto on the 28th, perhaps leading us to revisit an issue that was on the table at the end of December. Make your point – as directly as possible – but you may have to wait until February 11th, when they meet again with Mercury moving direct.
Venus ends her forty day retrograde on the 29th, but don't rush into a new relationship just yet. Give the goddess a few days to get moving up to speed. On the other hand, with the Sun square Uranus on the, impatience could win out. Note that once again, this is just before the new moon, so endings may be given precedence over beginnings.