After a few very active months in the sky, July represents something of a respite. Not that it will necessarily be all lazy, hazy days of summer, but we won't have the eclipses, planetary stations, and tense outer-planet aspects that characterized May and June.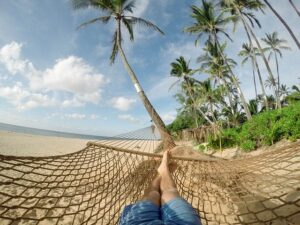 The astrology of July (and August) mirrors our post-pandemic reality. The theme for these two months is re-emergence. We've been through a lot, and it's time to integrate our experiences into our lives.
The month starts off with some of the hottest energy of the summer in the first few days. Mars opposes Saturn on the 1st, then goes on to square Uranus on the 3rd. The first aspect tends to feel contained and constrained. The second aspect is a real firecracker: impulsive and impatient. Having been held back by Saturn, we're pushed into action by Uranus. Imagine being in a stuck in traffic in a sports car. Suddenly the road clears and you jam on the accelerator. It feels good… but is it really wise? Watch out for reactivity and anger during this period, as well as a general impulsiveness. It's a good idea to have a task into which you can channel your energy – in fact, used constructively we can accomplish a lot during this time.
Mercury squares Neptune on the 6th – for the third time, due to his retrograde. While we might experience some miscommunication and heightened hyperbole, we may also find that confusion that began in late May is finally cleared up.
It's Venus' turn to step into the Saturn/Uranus arena from the 6th through the 8th. A serious vibe in socializing and relationship prevails at first, but then we're inclined to break out of routines and limiting situations. There could be decisions to be made between group activities and more intimate encounters. Venus in Leo wants to have fun, while Saturn is more concerned with the social rules. Uranus encourages Venus to do what she wants. With Mercury square to Neptune, be sure you get the full story before making a decision.
The New Moon in Cancer is on the 9th. This new moon asks us to consider what we want to create in the areas of home and family, and it also asks us about our larger family here on Earth.
With the Sun, Pluto, and Ceres all forming aspects between the 16th and 18th, we're likely to have a debate about environmental issues like global warming during the middle portion of July.
Venus remains busy, too, meeting with Mars in Leo on the 13th. There's great potential for romance and passion in this aspect, and although it's exact on a Tuesday, we'll feel the energy building from the weekend before.
Things get turned around a bit from the 13th through the 15th, as Pallas Athene stations to retrograde opposite Vesta in Virgo, then Chiron stations to retrograde. Along with Mercury's trine to Jupiter on the 12th, these aspects suggest that the lines of communication are open at mid-month, and we're likely to be very direct about what we want and need.
On the 21st, Venus enters Virgo. The goddess of love isn't too happy in fastidious Virgo, but she's bolstered by an opposition to her best friend, Jupiter minutes after she enters the sign. Jupiter reminds her that there are good times to be had, even if we're not quite as indulgent as we might be. Have a healthy dinner with a nice glass of organic wine. 😉
The Sun is ready for summer fun when he enters his home sign of Leo on the 22nd, just before the Full Moon on the 23rd. This full moon is at the very beginning of Aquarius, and will highlight issues of social justice that have been on our mindssince Saturn entered the sign last spring. To emphasize the Aquarian vibe, August's full moon will be at the end of the sign – this year we get a double dose of Aquarius full moon!
Mercury opposes Pluto on the 25th, an energy that can have you speaking truth to power – although power may also speak its truth to you. This could be the time for a serious conversation, at home or at work.
Jupiter retrogrades into Aquarius on the 28th. He'll spend most of the remaining year in the sign, adding to the progressive vibe. He'll also add a little compassion to the mix, pleading to soften the excesses of uncompromising idealism such as we see in cancel culture.
Our social lives get a jolt from the 28th through the 31st. It's another very active time, on both the personal and collective levels. Venus squares Juno on the 28th. Juno is the partnership asteroid, and represents Jupiter's wife. She's in Sagittarius, enjoying the expansive feel of Jupiter's home sign, and about to station to go direct on August 2nd. Some of us will feel a conflict between the relationships we want and what we have, although this aspect may also help us to appreciate our partnerships and partners.
Mars opposes Jupiter at the very last degree and minutes of Leo/Aquarius on the 29th. This is a hot aspect that again spurs us to action – perhaps in the name of a cause. Expect an ebb tide in patience through the last few days of July, although the Sun and Mercury make nice aspects to Juno on the 30th/31st, suggesting the potential harmony in our partnerships.
Image: Pexels, via Pixabay.